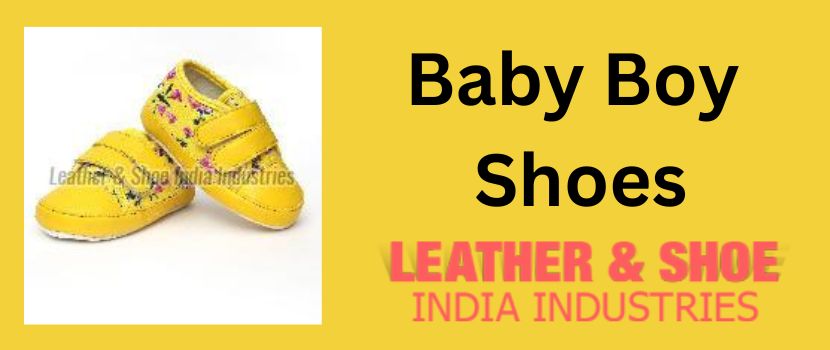 The first time your baby walks is such an amazing experience. It heralds the beginning of their transition from being a baby to a toddler, a new phase in their development. It is very normal to want to rush out the door and start looking for baby shoes when you're excited. However, you do not yet require your baby's first pair of shoes.
Here are the best recommendations for selecting your child's first pair of walking shoes from Top Baby Boy Shoes Manufacturers:
● Don't Buy Anything Instantly -
You might think you need to run out and get a pair of baby shoes for them right immediately when your baby takes their first, joyful, unsteady steps, but you don't. Before you need to start looking for "baby's first shoes" online, it will be some time.
For a period while they are initially starting to walk, babies benefit from wearing bare feet. They must be able to move their toes and feel everything.
At this time, wearing walking shoes will only serve to obstruct their contact with the ground. For children, learning to hold and balance oneself in this brand-new method will be more challenging.
Little feet might use a little more protection from cold or rough surfaces even if they don't yet need walking shoes. In this situation, pre-walkers for boys or girls are the best choice. They provide feet with a little more protection to shield tender soles and toes from injury. Yet they are soft and light enough to provide your infant with mobility and flexibility.
Just concentrate on letting your infant establish their balance and their confidence at this time of development.
● Watch For Progressive Signs -
The stages of a baby's growth are distinct from one another, as is the age at which they begin to learn to walk. The majority of toddlers take their first steps between the ages of 7 and 18 months. After that, it may take them some time to get the courage to walk without assistance.
The best advice is to hold off until your child can walk most of the day without assistance. At this point, their feet will begin to require the additional support that their first pair of walking shoes can provide.
● Choosing The Right Fit -
It is simplest to break down your requirements precisely. Once your list is organised, choosing the design and style that you like most makes the process a bit more enjoyable.
Selecting the proper fit is the single most crucial consideration. We are all aware that a shoe's fit is crucial. Many of us are familiar with the pain of a tight shoe.
● Choosing The Right Shoe Type -
There is no need to bother about arch supports because flat feet are typical in toddlers. Avoid wearing any shoes with high ankles since kids' ankles should be left free to prevent accidents and promote muscular development.
Baby walking shoes should be as light as feasible and provide support and flexibility for your baby's feet. To offer them the best possible hold on the ground, the soles should be flexible and non-slip. Beyond that, it's up to your personal choice.
Purchasing your baby's first pair of walking shoes from Top Baby Boy Shoes Manufacturers is joyful. It ushers in an exciting new stage in their development once you are aware of all the dangers.
When selecting a shoe that fits you, consider the season and any upcoming special occasions. Then take a seat, unwind, and relish this unique moment with your boisterous young child.